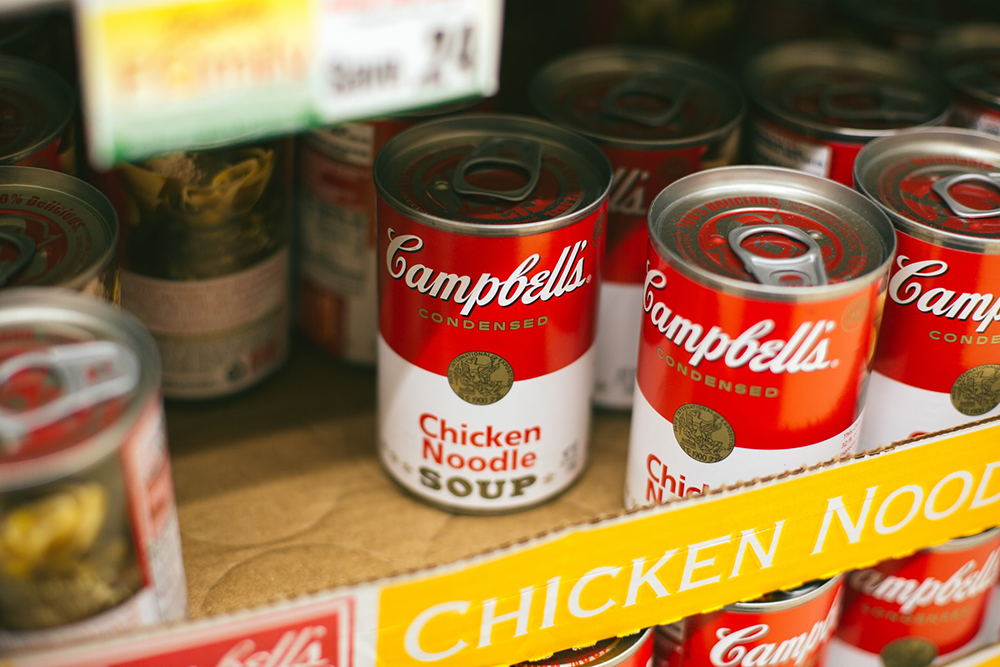 America is one of the richest countries on earth, yet more than 37 million people in our country experienced food insecurity in 2018, according to data from the USDA Economic Research Service. Although states like New Mexico and Texas have the highest percentages of people going hungry, every county in every state has households in which people are struggling to put food on the table every day. Unfortunately, this data indicates that households with children have a substantially higher rate of food insecurity (13.9 percent) than those without children (9.9 percent)—and we know that food insecurity can have a major negative impact on child development and growth. If you're wondering what you can do to fight hunger in your neighborhood, here are five ways you can help:
Organize a food drive.
Remember the cardboard boxes that would pile up with canned foods in your classroom at school as a kid? The years have gone by, but as it turns out, good old-fashioned community food drives remain foundational for nonprofits dedicated to reducing hunger—even in large organizations that routinely secure major partnerships with corporations.
You can fight hunger by organizing a food drive at your office, house of worship, gym, library, your kids' school, or any other community location you'd like. Just remember: Location is vital, so host your drive where there's a lot of traffic!
Items that are most needed by food banks and pantries include the following:
Beans
Whole grain cereals
Canned meat and fish
Shelf-stable milk
Canned vegetables
Canned meals
Canned or dried fruit
Peanut butter
Pasta and rice
You can download our most needed items flyer to keep the most in-demand items top of mind.
Donate canned foods.
If you aren't quite ready to take on the task of organizing your own food drive, you can make a positive impact by participating in a food drive that's already taking place. Throughout the year, and even more so during the holiday season, local businesses and supermarkets hold their own food drives to support community food banks and pantries. Look out for food drives happening in the places that you frequent, such as your house of worship, kid's school, or grocery store, or try checking with your local food bank to see what drives are taking place to collect donations for people in need.
Start a community garden.
Whether it's outside of a school or at another location within the community, a garden can be a lovely way to help feed the hungry with nutritious whole foods. You could serve as the garden's coordinator, and enlist the help of volunteers to assist with planting and tending to it. As soon as your garden is established, you can donate the fresh produce that it grows to those in need. Not only will the fruits of your labor—pun intended—help to feed your food insecure neighbors, but many people also find gardening to be a relaxing activity, and so it's likely that you may find it enjoyable as well. To identify the steps you need to take to get started, check out this community garden checklist.
Volunteer at a local food bank or pantry.
Your neighborhood food banks and pantries rely on volunteers like you to assist with tasks such as packing food items and lending a hand at events. Whether you have a few hours every week or are only available here and there to help, volunteering is a wonderful way to help fight hunger in your community.
Not sure what food banks or pantries are nearby? Find volunteer opportunities on a search platform such as VolunteerMatch or Idealist.
Raise awareness of food insecurity by spreading the word on social media.
One easy way to assist in the fight against hunger is to help raise awareness about food insecurity and to dispel the myths surrounding hunger. Using your voice on social media to share content about food insecurity can help your family, friends, and acquaintances better understand the challenges that people face every day in trying to get food on the table for their families.
Follow us on social media (@FeedingWestchester) to learn more about hunger in Westchester County and across America, and to find out how you can get involved. You can also visit our website to discover more about how you can take action to help us combat hunger in Westchester County.