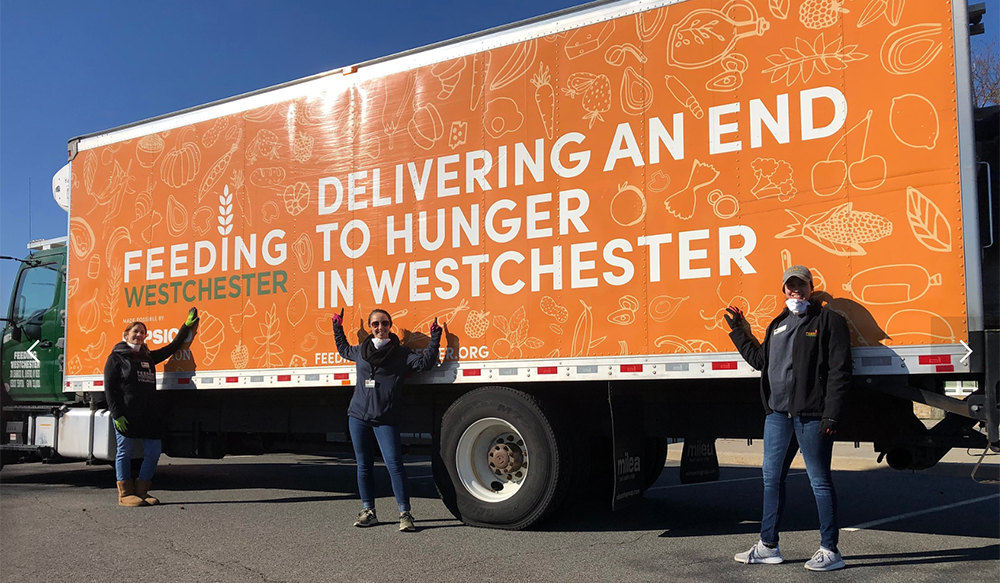 People who are having a hard time putting food on the table have long depended on food pantries for assistance. In recent years, mobile pantries have been revolutionizing the way that hunger-relief agencies are able to help food-insecure people—enabling them to quickly bring healthy food directly to the communities that need it the most.
Although mobile food pantries are a new concept in some parts of the U.S., many food banks have already developed or are currently developing ways to feed people in a mobile capacity. Across the country, mobile pantries are delivering nutritious foods to food deserts where access to healthy food is limited. More than 23 million Americans live in food deserts, and they exist even in heavily populated areas. For instance, a 2009 survey indicated that there were 750,000 people living in food deserts in New York State. Such residents do not have the convenience of a car for easy transportation, and without any grocery store options within walking distance, residents in food deserts often turn to unhealthy food choices.
Feeding Westchester's Mobile Food Pantry
We're proud to feed hungry people in Westchester County through our Mobile Food Pantry program. The program began in 2014 and has been gaining popularity ever since, becoming a robust means of feeding people.
Our current schedule includes weekly stops at various locations around the county, including community centers, churches, and schools. Our current distribution sites include the Mount Vernon Macedonia Baptist Church, Peekskill Community Center, and George Washington Elementary School in the town of Mohegan Lake. Typically, half of the residents our Mobile Food Pantry feeds are children.
If you're thinking about visiting one of our stops and aren't sure what to expect, check out our five tips for using the Mobile Food Pantry program.
5 Tips for Using Feeding Westchester's Mobile Food Pantry
1. Anticipate being able to get fresh foods.
One benefit of mobile pantries is that they can typically carry more perishable food than a traditional food pantry due to the fast turnaround time between when the pantry receives the food items and when they're distributed to residents. Our Mobile Food Pantry is filled with both perishable and nonperishable foods, and our fresh food offerings include produce, dairy, grains, and lean proteins.
Feeding Westchester has a fleet of eight refrigerated trucks that are on the road every day picking up donations from our partners, including retailers such as ACME Markets, Sam's Club, and Trader Joe's. Every year, we recover more than 3 million pounds of fresh food that would otherwise go to waste for our Mobile Food Pantry and Fresh Market programs.
2. Know that you have a two-hour window to shop.
Each of our Mobile Food Pantry stops is open for one to two hours. For instance, if the pantry opens at a distribution site at 12:30 p.m., plan to get there by 2:30 at the latest.
With that being said, we always bring more than enough food to feed the community, so never be concerned that we'll run out.
3. Expect to shop.
At Feeding Westchester, we understand that your family's dietary needs and desires may be different than the next family's. Our Mobile Food Pantry aims to honor your preferences by offering what we call a "client choice" model, in which community members can "shop" around for the foods they'd like to take home.
4. Stay up to date by checking our schedule.
Our Mobile Food Pantry typically has about a dozen weekly stops. Check our schedule to stay up to date on any new stops or time changes in advance.
5. Have confidence in our Mobile Food Pantry and know that we can feed you!
We often see lines at our mobile sites at start time—sometimes even beforehand. Please know that we bring plenty of food for those who need it and are happy to provide you with healthy food that can nourish your family.
Feeding Westchester's mission is to fight hunger in Westchester County, and we work hard every day to assist our food-insecure neighbors. By bringing food straight to our communities that need it the most, our Mobile Food Pantry has proved to be a great way to feed hungry Westchester residents.
If you have any questions about our Mobile Food Pantry program, feel free to contact us at mobilepantry@feedingwestchester.org or 914-923-1100.