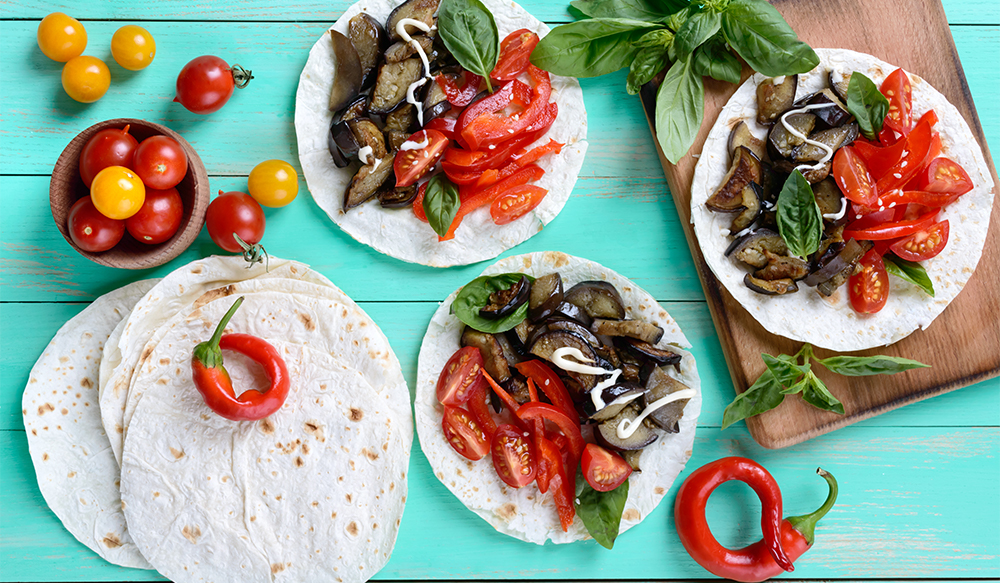 Here at Feeding Westchester, we pride ourselves on going beyond simply providing the next meal for those in need. We also offer a variety of programs, resources, and education for a lifetime of healthier eating, and so each of our Food Friday recipes will feature healthy, nourishing ingredients and whole foods. Get your saute pan out and get ready to celebrate Taco Tuesday, because today, we're featuring eggplant tacos.
Although eggplant doesn't always get the produce spotlight, it's a low-calorie veggie that packs a nutritional punch. Eggplant gets its purple hue from anthocyanins, which have antioxidant properties linked to anti-inflammation and obesity protection, as well as cell damage protection to fight off premature aging and illnesses such as heart disease—the leading cause of death in America. The veggie also provides the body with manganese, vitamins C and K, folate and other B vitamins, and potassium. Plus, it's an affordable veggie—currently averaging at under a dollar for an entire eggplant nationwide.
This eggplant taco recipe requires just a handful of ingredients and comes together in 20 minutes or less. Follow our directions below, and check out our recipe video for some visual cues.
Eggplant tacos
Ingredients
1 eggplant
¼ cup taco seasoning
¼ cup oil, such as olive or canola varieties
2 tablespoons cilantro
2 tablespoons fresh lemon juice
1 small white onion
1 garlic clove
Hard or soft taco shells, or large lettuce leaves for a lower-carb option
Optional add-ins: your favorite taco toppings, such as salsa, sour cream, shredded cheese, sliced tomato, and so on
Directions
First, prep your veggies by chopping the eggplant, dicing the onion, and mincing the garlic clove. Chop the cilantro as well.
Heat 2 tablespoons of the oil in a saute pan over medium heat.
Add the onion, garlic, cilantro, and lemon juice, and saute until the onion and garlic become lightly browned.
Stir in the diced eggplant and taco seasoning. Drizzle in the remaining 2 tablespoons of oil, and saute until the eggplant is tender, stirring occasionally.
Spoon the eggplant mixture into your taco shells, add in any optional toppings that you'd like, and enjoy the tacos while they're warm!
Looking for other healthy ways to enjoy eggplant? Here are five other recipe ideas using the versatile veggie to give you some meal inspiration:
Make it a simple side dish
Cube and saute eggplant with a bit of olive oil, minced garlic, sea salt, and black pepper. Eat the eggplant alongside other dishes, such as chicken or veggie burgers and brown rice.
Eggplant lasagna
Boost the nutritional power of your lasagna by adding slices of eggplant to the mix. Just layer the slices in on top of your cheese.
Homemade pizza
Spice up your dinner routine with a homemade pizza night featuring sliced eggplant alongside your favorite pizza toppings. If you don't have pizza dough at home, use pita bread and make them personal pizzas.
Looking for something low carb?
Leave out the noodles and make eggplant your star ingredient with a mozzarella-and-ricotta-stuffed eggplant rollatini dish. Check out this full recipe for eggplant rollatini.
Roasted veggies
Cut an eggplant up with some of your other favorite veggies, such as budget-friendly green bell pepper, onions, and potatoes. Drizzle the cut veggies with oil and season them with your favorite spices, then bake in the oven until they're nice and tender.
Feeding Westchester works to tackle hunger from all angles with a variety of initiatives, including our BackPack Program, which provides meals to elementary school children in need; our food recovery efforts, in which we recover and distribute more than 3 million pounds of perfectly good food (that would otherwise go to waste) annually; and our Mobile Food Pantry program, which delivers food to underserved communities via refrigerated trucks. Learn more about how you can get involved in aiding us in our mission to end hunger in Westchester County.