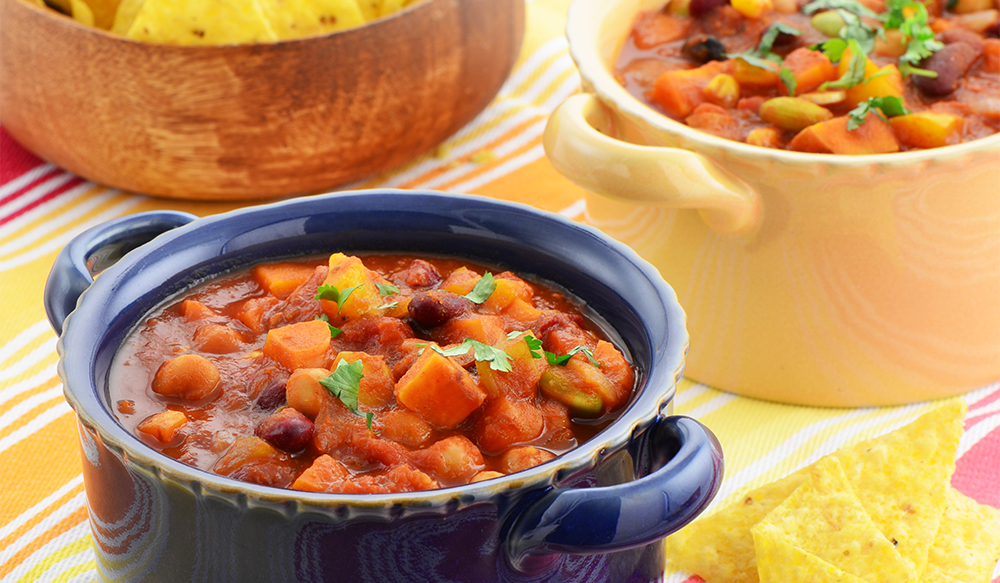 "You don't have to cook fancy or complicated masterpieces—just good food from fresh ingredients."
—Julia Child
Here at Feeding Westchester, we're all about making easy recipes using whole foods. Today, we're back for Food Friday, featuring a plant-based recipe packed with fresh ingredients. Let's get ready to make a hearty sweet potato chili!
The Low-Down on Sweet Potatoes
Sweet potatoes are a starchy root vegetable with a long-debated origin. Previous fossil evidence had suggested that the sweet veggie may have originated in North America around 35 million years ago, but new research suggests that it originated in Asia 57 million years ago. Wherever and whenever it got its start, the sweet potato is a beloved veggie. In fact, sweet potatoes are one of the most popular veggies in America nowadays.
Being a rich source of fiber, iron, manganese, calcium, selenium, vitamin C, and B vitamins, the sweet potato has numerous health benefits. The veggie is also extremely rich in the antioxidant beta-carotene—which converts to vitamin A in the body and gives the sweet potato its bright orange pigment. Just one cup of sweet potato provides 769 percent of the daily recommended intake of vitamin A. Other foods high in beta-carotene include carrots, butternut squash, apricots, and cantaloupe.
The Recipe
In addition to the star ingredient of this Food Friday chili recipe, other veggies in the mix include cans of black beans and diced tomatoes, along with a bell pepper and onion. Serve the chili with your favorite toppings, such as sour cream, chopped cilantro, and sliced avocado.
Ingredients
4 cups vegetable stock
3 medium sweet potatoes
28-ounce can diced tomatoes
15-ounce can black beans
1 red bell pepper
½ yellow onion
2 garlic cloves
1 tablespoon olive oil
1 tablespoon chili powder
Salt and pepper to taste
Options for serving: sour cream, cilantro, sliced avocado, shredded cheese, tortilla chips

Directions
Prep your veggies: Peel and dice the sweet potatoes, dice the pepper, and mince the garlic and onion.
Heat the oil in a large pot over medium heat. Add in the garlic and onion, and cook until the onion begins turning translucent and the garlic begins to lightly brown, 3-5 minutes.
Add in all of the remaining ingredients and bring to a simmer. Lower the heat to medium low, cover, and cook until the sweet potatoes are tender and the soup has thickened to your desired consistency, 20-30 minutes.
Spoon into bowls, top with desired garnishes, and enjoy.
Other Sweet Potato Recipes
If you're looking for additional ways to cook with sweet potatoes, check out these five recipe ideas:
Rosemary-Pecan Mashed Sweet Potatoes
This rosemary-pecan sweet potato recipe uses the quick-cooking method of popping the sweet potatoes in the microwave until tender, and then mashes them and combines the veggie with a mixture featuring pecans, olive oil, Parmesan cheese, and fresh rosemary.
Apple-Stuffed Sweet Potatoes
Sweet potatoes and apples are a match made in heaven, and this twice-baked sweet potato recipe requires just six ingredients. Get the recipe for apple-stuffed sweet potatoes.
Sweet Potato Frozen Yogurt Pops
Have you ever considered using sweet potatoes in frozen dessert pops? This recipe does just that, combining mashed sweet potatoes with Greek yogurt to make frozen pops. Try making these sweet potato frozen yogurt pops at home for a healthy dessert.
Sweet Potato Kale Frittata
Frittatas work well for any meal of the day, and this recipe packs a nutritious punch with the inclusion of sweet potatoes and kale. It also amps up the flavor with the use of goat cheese.
Sweet Potato, Avocado, and Black Bean Tacos
If you're craving a taco night, consider whipping up these sweet potato black bean tacos. The recipe calls for serving the tacos with sliced avocado and crumbled cotija or feta cheese, making it a flavorful, hearty vegetarian meal.
Feeding Westchester is dedicated to serving the people of Westchester County through our food distribution and education initiatives. Be sure to check out all of our food education articles, in which we share more nutritious Food Friday recipes and discuss tips for healthy shopping and cooking on a budget.
Are you interested in getting involved? Start volunteering with us today. The time and talent of Feeding Westchester's volunteers are crucial in our fight against hunger.