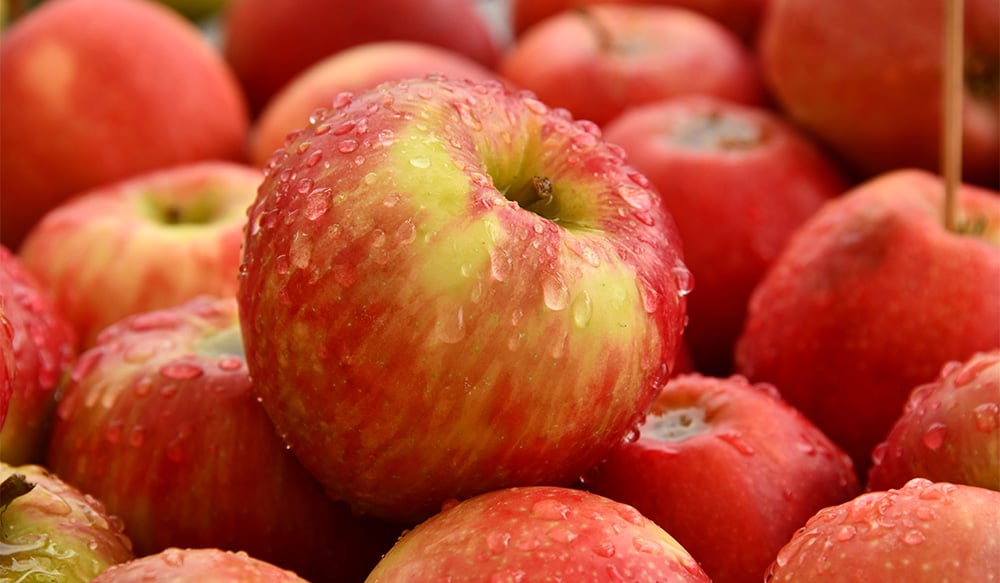 It's been said that when grocery shopping, a smart rule of thumb is to mostly stick to the outer aisles of the store. Why? Because that's where all of the produce is typically located, and eating a mostly whole-foods-based diet is a crucial component of a healthy lifestyle.
You may be wondering if it's possible to eat an abundance of fruits and vegetables while sticking to a modest budget, and the answer is: absolutely! In fact, a 2016 study conducted by the U.S. Department of Agriculture's Economic Research Service found that in 2013, a consumer on a 2,000-calorie-a-day diet could satisfy federal fruit and vegetable recommendations for $2.10 to $2.60 per day.
So how can you eat a produce-filled diet on a budget? Below are three buying tips that can help you do so, and you can check out our blog post about grocery shopping on a small budget for other tips:
Eat seasonally. By sticking to produce that's in season, you'll be able to nab deals ... and the produce will be at its peak flavor, too! Stores will often feature fruits and veggies that are grown locally, which is another added perk to eating seasonally.


Buy in bulk. Sometimes, purchasing a larger quantity of a fruit or vegetable will get you a better price per serving. For instance, a medium-size box of baby spinach may cost $3.50, while at the same time a box of spinach that's twice as large may have a price tag of $5. Buying the larger size will significantly lower your per-serving cost. Just make sure to incorporate baby spinach into more of your upcoming meals so that you can get the most bang for your buck.


Focus on the most affordable items. Although it's true that some fruits and vegetables can cost more than unhealthy foods, there are also many produce options that are very affordable, healthy choices. By purchasing these items, you can maximize the amount of food you're buying within your budget and reap the nutritional benefits of eating many whole foods.
Wondering what the most affordable produce is? Check out these fruits that tend to cost 50 cents or less based on average cost per cup equivalent:
Watermelon
Bananas
Cantaloupe
Apples
Pineapple
Canned tomatoes
And here are some veggie options that cost 50 cents or less per cup equivalent:
Potatoes
Dried lentils, pinto beans, black beans, navy beans, Great Northern beans, and red kidney beans
Dried black-eyed peas
Fresh and frozen carrots
Green and red cabbages
Iceberg and romaine lettuces
Dried lima beans
Cucumbers
Canned green beans
Celery
Frozen mixed peas and carrots
Onions
Canned mustard, turnips, and collard greens
Fresh or frozen cauliflower
Radishes
Canned corn
Green peppers
Comparatively speaking, these fruits and vegetables can cost about the same or even less than a serving of some of the most popular highly processed snacks. For instance, at popular retailers such as Walmart or Target, Doritos nacho tortilla chips are sold at around 31 cents per ounce, Hostess Ding Dongs and Twinkies cost about 50 cents per serving, and Kellogg's Pop-Tarts cost about 39 cents each.
If you're looking for healthy meal inspiration, here are a couple of easy ideas that incorporate some of the fruits mentioned above:
Apple cinnamon oatmeal—Chop up an apple and cook it with your morning oatmeal and some ground cinnamon, a bit of honey or another sweetener, as well as a pinch of salt.


Easy Italian dinner—Blend a can of whole peeled tomatoes until liquefied, then saute in a bit of olive oil with some freshly minced onion. Meanwhile, cook a pound of whole grain pasta. Combine the sauce with the pasta for a simple but delicious pasta night!


Healthy after-school banana snack—Slice a banana in half lengthwise. Spread peanut butter onto the banana, and arrange some raisins and/or chocolate chips onto each half.
Stuck in a veggie rut? Here are a few meal ideas that focus on the veggies listed above:
Veggie-packed taco night!—Cook some dried black beans until tender. Meanwhile, saute some veggies from our list, such as sliced green peppers, onions, and carrots. Load your taco shells with the beans and veggies, along with your other favorite taco ingredients, such as shredded cheese, salsa, and chopped lettuce for a healthy taco dinner.


Homemade chips—Got a hankering for something salty? Peel and thinly slice a few potatoes, toss them with a bit of olive or vegetable oil along with some spices such as paprika and sea salt, and place them in a single layer on a baking sheet. Bake at 400 degrees until your homemade chips are crispy on both sides.


Warm up with some soup—The best thing about making soup is that you can often throw in whatever ingredients you have on hand and it'll work, so don't be afraid to toss the recipe and experiment by incorporating different veggies into a soup. Try your own take on minestrone by browning some diced onion, pouring in some broth, and then adding in green beans, celery, and carrots, along with your choice of grain, such as farro or rotini pasta.