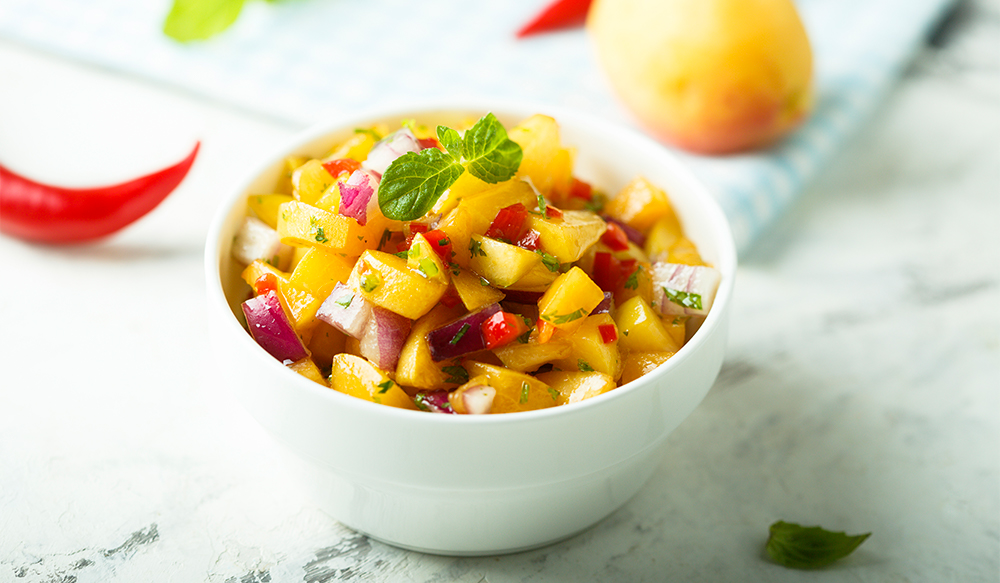 Welcome back to our Food Friday series, in which we post healthy, simple featured recipes on Fridays. Our first Food Friday recipe was eggplant tacos, and today we're sharing an easy mango salsa recipe with you.
If you don't have much time to meal-prep in the kitchen, this mango salsa recipe is for you! It comes together in just a few minutes and requires just a couple of whole-food ingredients. Find step-by-step recipe instructions below, and you can also check out our mango salsa recipe video for visual cues.
The mango is a tropical, refreshing fruit. Grown in warmer climates, this super-sweet tropical stone fruit has been cultivated for more than 4,000 years and is the epitome of the phrase "nature's candy." Mangoes are rich in immune-boosting nutrients, antioxidants, vitamins A and C, folate, B6 and iron. Additionally, research has shown that mangoes can improve digestion problems thanks to their dietary fiber, water content and digestive enzymes called amylases. On average, mangoes cost 68 cents per cup equivalent.
Other healthy ingredients in this mango salsa include vitamin C and antioxidant-rich peppers, cilantro and lime.
Mango Salsa
Ingredients
1 ripe mango
¼ red bell pepper
½ jalapeño pepper
2 tablespoons cilantro
1 small bunch of green onions
Juice from 1 medium lime
Salt and pepper to taste
Directions
First, peel and dice the mango. Transfer the diced mango into a bowl.
Next, remove the core and seeds from the red bell pepper. Finely dice ¼ of it and add it to the bowl.
Finely dice the jalapeño pepper and transfer it to the bowl. Chop the cilantro and green onion, and add them to the bowl as well.
Squeeze the lime juice on top of the produce. Add salt and pepper to taste, and mix everything well. Enjoy!
This mango salsa pairs wonderfully with a variety of dishes. Here are five ways to use it:
Dip some tortilla chips into the salsa for a snack
Spoon some salsa on top of Baja fish tacos
Spice up a simple rice and beans dish with the inclusion of this salsa
Top a lime-infused chicken dish with it
Make Cinco de Mango quesadillas by adding some of the salsa to your favorite quesadilla combo
Whatever you eat this mango salsa with, it's sure to add some extra pizazz — and nutrition — to your meal.
More Mango Recipe Inspiration
If you're looking for more mango recipe inspiration, check out a few additional healthy ideas for incorporating the delicious fruit below. And be sure to check back on our blog for more upcoming Food Friday recipes!
Looking for a mental getaway to a tropical island? Try this fruit-packed mango melon smoothie:
Combine 1 cup of cantaloupe + 1 ½ cups of frozen mango + ½ cup canned coconut milk (regular or lite works) + 1 tablespoon honey + a handful of ice in a blender. Feel free to add yogurt or protein powder for a protein boost or sprinkle in some chia seeds or hemp hearts for some added healthy fat.
Tropical Yogurt Bowl
Turn your yogurt into a more filling, nourishing meal. Add sliced mango to a vanilla yogurt, pour in some granola, and drizzle almond butter on top. You can also add other fruit to the mix, such as dried pineapple or sliced banana.
Make Strawberry Mango Sorbet
If you own a high-powered blender or food processor, make this five-ingredient sorbet for a healthy dessert:
Ingredients
2 cups frozen mango
1 cup frozen strawberries
¼ cup almond milk
2 tablespoons agave nectar
Juice from ½ medium lime
Directions
Place all ingredients in a high-powered food processor.
Pulse for 30 seconds. Pause the processor and scrape down the sides of the mixture.
Pulse again until it becomes smooth with a sorbet consistency. You may need to scrape down the mixture once more.
Enjoy right away, or transfer the sorbet to a loaf pan, bowl or container. Place in the freezer to thicken its consistency until you're ready to eat it.
Here at Feeding Westchester, we do more than simply provide the next meal for those in need. We work hard to tackle hunger from all angles, in part by providing healthy eating resources and nutrition education. If you're interested in volunteering your time and talent with us, learn more about how you can get involved.