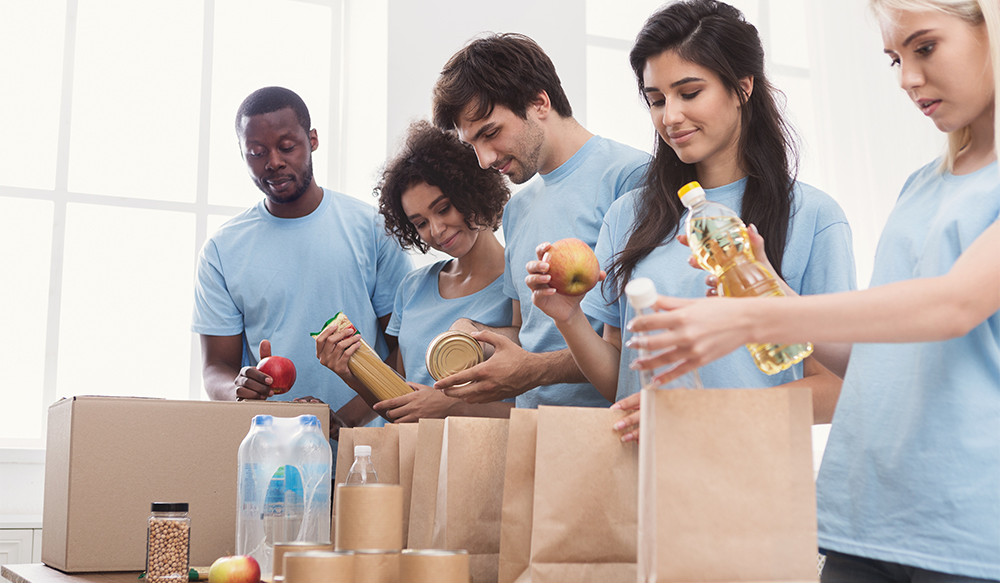 Millions of people face food insecurity throughout America, but no matter where you live, you can join in the fight against hunger. One way to make an impact is by hosting a local food drive. Food drives are a popular way to gather nonperishable food items for food banks across the nation.
Organizing an impactful food drive doesn't need to be a complicated task. Follow the five simple tips that we've outlined below to make your food drive a hit.
1. Select a Location and Dates That Will Optimize Your Success
Be sure to take into consideration the dates and drop-off location that make the most sense for your food drive. A few things to consider include:
Avoid holding your food drive at the same time as a big event in your town.
How can you create a food drive theme that fits in with your selected dates? A couple of ideas include an Earth Day, Halloween or holiday-season-themed food drive.
Consider whether there are months or times of the year that would work better than others.
We suggest holding the drive for five weekdays so that people have one designated week to remember to bring donations.
Choose a well-trafficked drop-off location. Potential locations include a school, local business, faith-based organization or grocery store.
2. Emphasize Donations of Food Banks' Most Needed Food Items
Encourage participants to donate the following nonperishable food items:
Canned or dried beans
Canned or dried fruit
Peanut butter
Pasta and rice
Whole grain cereals
Canned meat and fish
Shelf-stable milk
Canned low-sodium foods
Canned low-sodium vegetables
Additionally, encourage donors to choose healthy food items that are labeled low sodium, no added salt or sugar, unsweetened, 100 percent fruit juice or lite. Avoid accepting unlabeled, perishable, open, used, damaged or degraded products — as food banks will not be able to use these types of items.
3. Accept Cash Donations
Did you know that hunger relief agencies work directly with local distributors and partners to secure food for a fraction of the retail cost? For instance, Feeding Westchester can provide four meals to hungry people for just $1.
Although both food products and monetary gifts are much appreciated by food banks, there are advantages to cash donations. Because cash can be put to better use in a nonprofit's hands than donated food items can, your food drive will have a greater impact if you accept cash donations as well.
4. Get the Word Out
People can only donate to your food drive if they know that it's taking place. Advertise your food drive anywhere that it can reach potential donors to maximize your results. Here are a couple of ideas on how to promote your event:
Share food drive details on your social media channels. It's a free, effective tool for getting the word out.
Create flyers that can be hung up on-site and at local community centers, such as restaurants, schools and churches.
Send an email out to your friends, family and colleagues to announce the drive. Chances are good that people close to you will want to contribute to a cause that you care about.
Ask community websites, such as a local newspaper or Patch, to include your food drive in their upcoming event section.
Approach local retailers to see if they're interested in sponsoring your food drive. For instance, a retailer can match the donations raised during your food drive with a dollar amount or product donation.
5. Make Sure to Follow up After Your Event
When your food drive has concluded, be sure to send a thank you email out to contributors. Consider also posting a thank you message and the results of your food drive on your social media channels.
With 41 million Americans facing food insecurity, hunger exists in every corner of America, and each of us has the power to make a positive difference. Are you looking for additional tips for hosting an effective food drive? Check out our Food Drive Checklist for more info.
Feeding Westchester relies on participation from caring citizens in our community to deepen our impact in fighting hunger — whether it's through their volunteer efforts, generous donations, attendance at our fundraising events or organization of food drives. If you'd like to get involved by hosting a food drive that benefits Feeding Westchester, register for a food drive today.