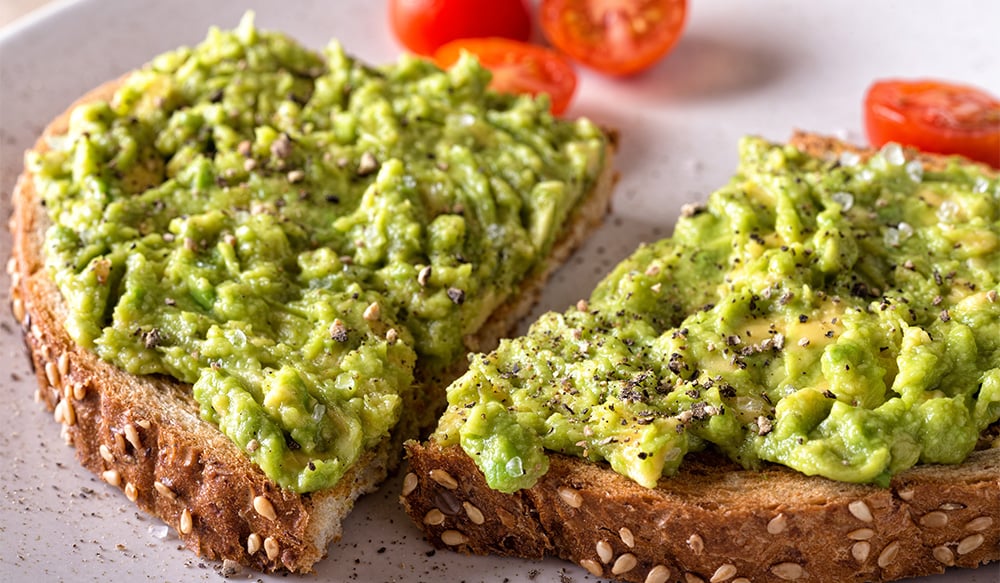 Welcome back to the latest installment of our Food Friday blog series. We believe that healthy eating doesn't have to be difficult, and with Food Friday, we feature simple recipes that are both nutritious and delicious. So far in the series, we've shared eggplant tacos and mango salsa, and today, we're sharing a new simple, healthy recipe. It's time to make avocado toast!
What Makes the Avocado a Superfood?
The avocado has become a favorite staple of the healthy food scene in recent times, but the truth is that this heart-healthy-fat-packed produce has been around for thousands of years. In fact, the Central American avocado tree originated in Mexico and Colombia around 7,000 years ago. By the 16th century, the Aztecs and Incas had shared the avocado with Spanish conquistadors, and the fruit was later enjoyed by English colonists before making its way into North American culture.
One surprising tidbit about the avocado? It's actually a fruit! Avocados contain one large single pit, fleshy pulp, and are the product of trees — all qualities that indeed define it as a fruit.
Avocados are widely known for their healthy-fat content, and for good reason: Monounsaturated fatty acids account for two-thirds of its calories. Known as the "good fats," monounsaturated fats help to reduce bad cholesterol levels in the blood, lowering the risk of heart disease and stroke — two of the top five leading causes of death in the U.S.
The pear-shaped fruit is also rich in disease-fighting antioxidants and dietary fiber, as well as a number of vitamins and minerals. In fact, one 3.5-ounce serving of avocado packs in significant amounts of folate, as well as vitamins K, C, B5, B6 and E. And although bananas have a reputation for being potassium-rich, avocados actually contain more potassium — a nutrient that research links with lower blood pressure — than its fellow fruit.
There are many varieties of avocado to choose from. In fact, there are now 80 types grown in California alone! The Hass avocado is the most popular, but you can eat any kind of avocado to reap its nutritional benefits.
Get the Recipe
For this simple avocado toast recipe, we combine the superfood fruit with garlic, cilantro, onion, salt and pepper, then spread it on slices of toast. We recommend using whole grain bread to provide the nourishment of complex carbohydrates, fiber and ample disease-fighting properties.
Avocado toast is a quick recipe that you can use as a go-to meal for breakfast, lunch or a snack. All you need are five minutes and a couple of ingredients for this Food Friday recipe! To learn how to whip it up, check out our recipe video or follow the directions below.
Easy avocado toast
Serves 1
Ingredients
2 slices of whole grain bread
1 small avocado
1 tablespoon white onion
1 garlic clove (we only use about ⅛ tablespoon)
¼ teaspoon cilantro
Salt and pepper to taste
Directions
Toast the two slices of bread.
Meanwhile, remove the pit from the avocado. Scoop out the flesh of the fruit, mash it with a fork and place it in a bowl.
Mince the onion, garlic and cilantro. Add everything to the avocado bowl.
Season the avocado with salt and pepper. Mix well, taste-test, then add in more salt and pepper to taste.
Spread the avocado mixture onto the slices of toast, and enjoy while the toast is warm.
Are you Looking to Jazz up Your Avocado Toast?
Here are three additions that will kick your avocado toast up a notch and keep you fuller for longer:
Add an egg.
Cook an egg however you like it — poached or sunny side up are a few popular ways — and top your avocado toast with it for a protein boost.
Load it up with Mediterranean ingredients.
Give your avocado toast a Mediterranean flair by adding crispy chickpeas, chopped tomato and sliced artichoke hearts. Talk about packing in the produce!
Go nuts.
Another way to make your avocado toast heartier is to sprinkle in your favorite nuts or seeds. A few ideas for other toppings include pepita seeds, toasted pine nuts or chopped almonds.
Feeding Westchester believes that ending food insecurity is about more than providing the next meal for people. We go further and tackle hunger from all angles by providing food education, resources and tools for a lifetime of healthier eating. Learn more about how you can get involved.