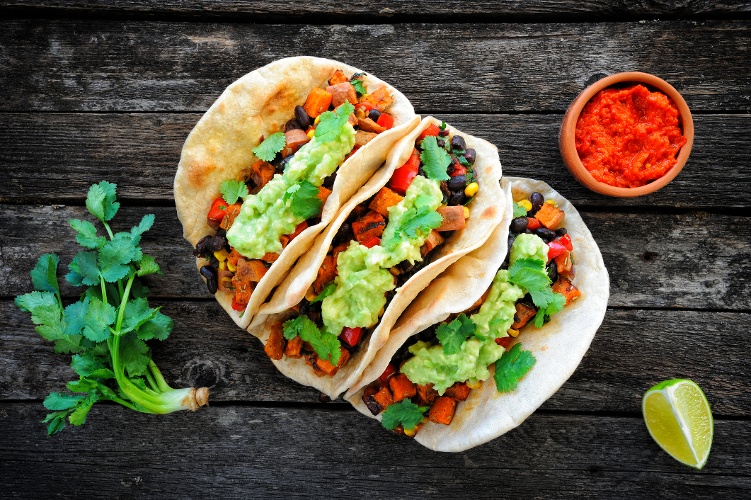 Welcome back to another installment of our Food Friday series. With each Food Friday share, we feature a tasty, whole foods-based meal idea, and this time, we're sharing a recipe for one of the most popular dishes in Mexican cuisine: tacos!
Tacos are a highly customizable, fun finger-food meal, and our nutrient-packed version features roasted sweet potatoes and black beans. Today's recipe is a healthy, delicious way to satisfy your taco cravings — plus, it requires just a handful of simple ingredients.
Benefits of Eating Sweet Potatoes and Black Beans
The sweet potato is an antioxidant powerhouse that's rich in vitamins A and C. One cup of sweet potato provides 400% of the recommended daily intake of vitamin A, along with nearly half of your daily vitamin C needs. The bright root veggie is also high in magnesium as well as several energy-supporting B vitamins and minerals, including potassium, which helps improve heart health by regulating blood pressure. Additionally, sweet potatoes contain anti-inflammatory compounds, and their skin is a rich source of fiber.
The other star ingredient of these tacos is black beans, which are versatile legumes loaded with antioxidants and nutrients. In fact, black bean skin contains powerful antioxidants that have been linked to reduced signs of aging and a decreased risk of cancer. If that wasn't enough to persuade you to eat more black beans, the soluble fiber found in them has been shown to lower LDL (bad) cholesterol, and the legume is also high in protein and zinc, among other perks.
In addition to making these tacos, a few fun ways to eat sweet potatoes include making chips at home, whipping up a sweet potato hash with your breakfast and baking up healthy cookies for dessert. A few other interesting ways to eat black beans include sneaking them into baked goods such as brownies, adding some to your omelet and sprinkling some on top of a salad.
The Recipe
Let's get cooking with this crowd-pleasing plant-based meal.
Roasted Sweet Potato and Black Bean Tacos
Makes 6 tacos, 3 servings
Ingredients
3 cups peeled and diced sweet potatoes (about 2 medium sweet potatoes)
1 15-ounce can black beans
1 cup salsa
1 avocado
6 small tortillas
1 tablespoon taco seasoning
1 tablespoon olive oil
Salt and pepper to taste
Favorite taco toppings: salsa, sour cream, lettuce, tomato, hot sauce and the like
Directions
Preheat your oven to 425 degrees.
Place the peeled, diced sweet potatoes in a bowl. Drizzle in olive oil and sprinkle in the taco seasoning. Toss well to coat evenly, and then spread the sweet potatoes out in a baking dish.
Bake for 15 minutes. Season with salt and pepper to taste, toss the sweet potatoes well and then bake again until tender, about another 15-20 minutes.
Once you've tossed the sweet potatoes, prep the black beans: Loosely drain the beans by letting liquid seep out from the opened can top, leaving a bit of liquid in the can. Next, place them in a saute pan over medium-low heat. Add in the salsa, and heat until the mixture thickens to its desired consistency, stirring a few times.
Core and dice the avocado.
Once the sweet potatoes are ready, evenly place the black bean mixture and sweet potatoes onto the tortillas. Top with diced avocado and your desired toppings. Enjoy while they're warm!
7 Additional Mexican-Inspired Recipe Ideas
Are you looking for more Mexican-inspired recipes? Here are seven additional meal ideas.
Salad in an avocado itself? You bet! These Mexican-style avocado cups feature an arugula-walnut pesto, along with bell pepper, cherry tomatoes and black beans.
Packed with protein and fiber, the star ingredients of this 30-minute taco skillet recipe are lentils, walnuts and carrots.
This veggie-packed chili is another Food Friday recipe that features sweet potatoes and black beans, and it's perfect to make during the autumn and winter months!
The potato is a versatile, inexpensive veggie to cook with. This recipe bakes potatoes with corn, beans, bell pepper and shredded cheese for a hearty, healthy meal.
These fish tacos are topped with a yogurt and mayo chipotle cream, cabbage and corn.
Skip the cheese with these dairy-free enchiladas, which feature beans, zucchini and bell pepper.
This easy-to-whip-up recipe features quinoa, a nutritional powerhouse that has been eaten for thousands of years.
Here at Feeding Westchester, we're dedicated to ensuring that every one of our neighbors has access to the healthy food they need to thrive. In addition to our food distribution programs, we offer educational resources to help people shop smarter, cook healthier and eat better. Learn more about how we tackle hunger from all angles here.