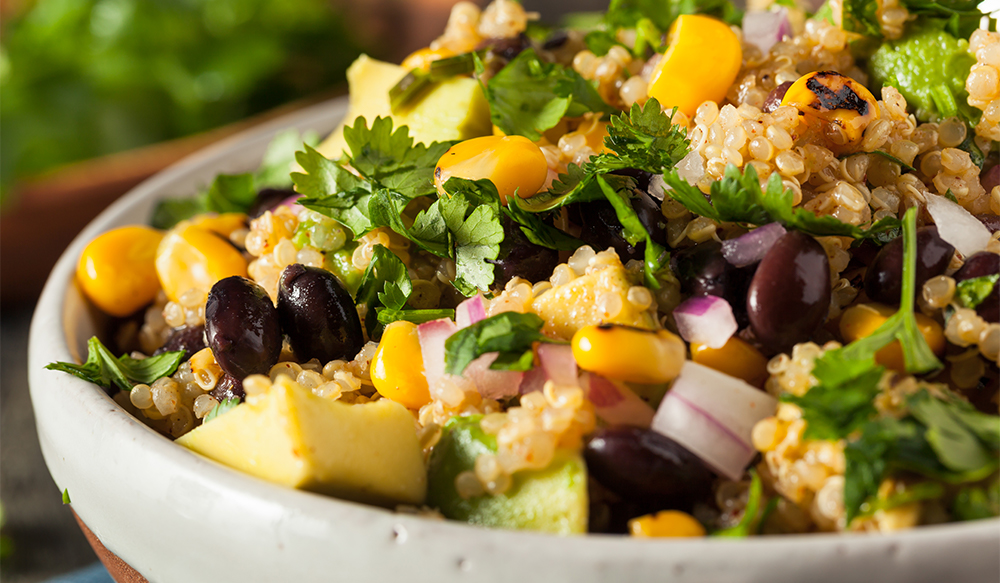 Welcome back to our Food Friday recipe series! This week, we're turning our attention toward quinoa—a protein- and fiber-packed superfood. This easy Mexican quinoa recipe can be made in 30 minutes, and it's packed with veggies and nutrients.
Quinoa Origins
Quinoa (pronounced keen-wah) is an ancient grain that has been around for ages. In fact, it was deemed the "mother grain" and considered sacred by the Incas all the way back in the 15th century. Quinoa was a staple of the Incan civilization, but although it has been popular in South America for thousands of years, it only recently became a trendy, beloved grain worldwide.
Quinoa Benefits
There are three main types of this nutritionally dense grain: red, white, and black. Quinoa contains all nine essential amino acids, which is a rare quality for a plant food, and it's high in protein, fiber, magnesium, manganese, folate, B vitamins, iron, potassium, calcium, phosphorus, vitamin E, copper, zinc, and various beneficial antioxidants. Quinoa is also low on the glycemic index. Eating foods low on the glycemic index is beneficial for blood sugar control, weight management, and overall health.
Easy Mexican Quinoa
Ingredients
1 cup uncooked quinoa, rinsed
1 tablespoon olive oil
1 ¼ cups water, vegetable broth, or chicken broth
1 red bell pepper
1 15-ounce can black beans, drained and rinsed
1 cup corn kernels, fresh or frozen
1 cup jarred salsa
½ red onion
½ teaspoon salt
¼ teaspoon paprika
¼ teaspoon black pepper
Optional garnishes: diced avocado, cilantro, lime
Directions
Mince the red onion. Dice the bell pepper.
Heat the oil in a large skillet. Add the minced onion and cook for 2 minutes. Add the bell pepper and cook for 5 minutes.
Add the remaining ingredients and bring to a boil.
Reduce the heat to low and cover with a lid. Simmer for 20-25 minutes, until the liquid is soaked up and the quinoa is tender.
Divide into bowls, add garnishes, and enjoy.
Looking for Other Ways to Cook with Quinoa?
Here are six additional recipes to consider giving a try:
Simple Quinoa Tacos
These tacos are another 30-minute-or-less quinoa meal to whip up. The recipe features a filling made by combining quinoa with a number of flavorful spices, including cumin, paprika, garlic powder, and onion powder.
Get the quinoa taco recipe.
Veggie-Quinoa Soup
Make it a soup night by cooking this comforting veggie-quinoa soup. The recipe provides a hefty dose of veggies, including carrot, bell pepper, russet potato, sweet potato, zucchini, and Brussels sprouts.
Get the full veggie-quinoa soup recipe here.
Tropical Mango Quinoa Bowl
This recipe incorporates the ancient grain and mango into a nourishing tropical bowl. It also features a citrus cashew sauce made with raw cashews and minced ginger, along with orange and lime juice.
Find the tropical mango quinoa bowl recipe here.
Giada's Quinoa Pilaf
Giada is known for her Mediterranean-inspired recipes, and this quinoa recipe uses ingredients such as cucumber, arugula, fresh mint, lemon zest, slivered almonds, and white wine to make a flavorful, hearty pilaf dish.
Try Giada's quinoa pilaf recipe.
Spinach-Quinoa Cakes with Bell Pepper Relish
This recipe gets creative by using quinoa to make baked patties with spinach, goat cheese, eggs, and bread crumbs. The dish is kicked up a notch by topping the cakes with a bell pepper relish.
Get the recipe for spinach-quinoa cakes.
Crispy Quinoa Sliders
Trade your hamburger in for these quinoa sliders, which are held together with grated zucchini, Parmigiano-Reggiano cheese, and wheat bread, among a few other ingredients, and then sautéed in olive oil. Serve the sliders on mini buns, and top them with sliced tomato and avocado if you'd like.
Check out the recipe for crispy quinoa sliders.
Be sure to check out our other Food Friday recipes:
Here at Feeding Westchester, we believe that knowledge is power. This is why we not only work to provide food to every hungry person in the area but also offer educational resources and tools to help people shop smarter, cook healthier, and eat better. We'd love for you to learn more about our food education initiatives.
If you're interested in getting involved with Feeding Westchester, please visit our volunteer page to find out more about how you can help us fulfill our mission of fighting hunger in Westchester County.