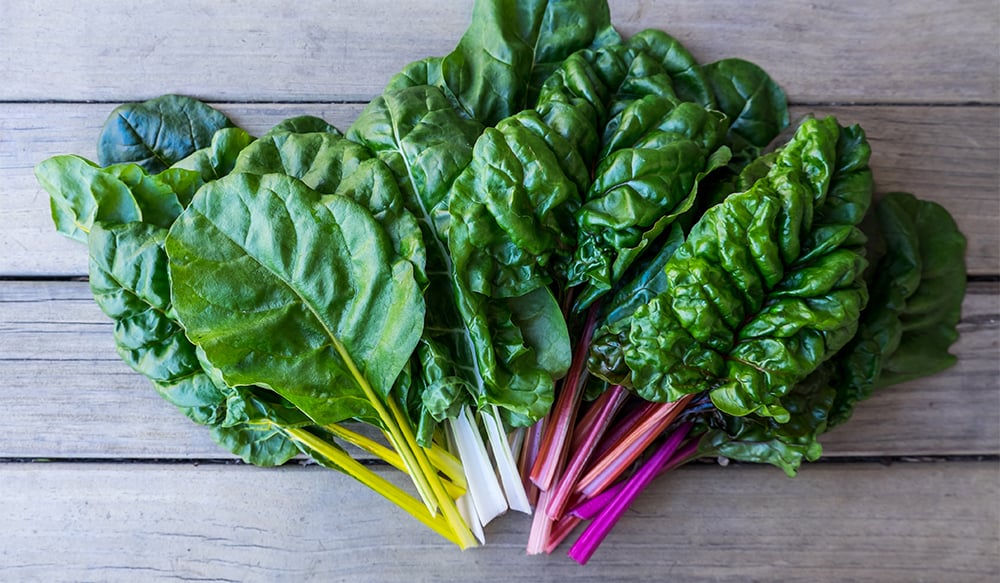 Welcome back to another installment of Food Friday, when we share nutritious, delicious recipes featuring simple ingredient lists and whole foods. Today we're introducing a recipe that will bring something fresh and bright to your mealtimes during these cold winter months: veggie-packed, simple-to-whip-up rainbow chard wraps.
Rainbow Chard 101
Known for its colorful stalks, rainbow chard is included in the same family of vegetables as beets and spinach, and can typically be found from March through late fall. This dark, leafy green vegetable is also known by a variety of other names, including Swiss chard, bright lights, Chilean beet, mangold, perpetual spinach, Roman kale, silverbeet, spinach beet and white beet. Its taste is similar to that of spinach but it's usually a bit milder, and its stalks resemble those of celery, with a hint of beets.
Rainbow chard is common in Mediterranean cuisine and packs quite a nutritional punch. It's a rich source of vitamins K, C, A and E, iron, magnesium, manganese, potassium and iron. It's also high in antioxidants, including beta carotene, which is believed to protect cells from damage and decrease the risk of developing certain chronic diseases. In fact, research has found that people with the highest intake of beta carotene have a significantly lower risk of lung cancer than those with the lowest intake. Research also shows that vitexin, another flavonoid antioxidant found in chard, may help fight heart disease by lowering blood pressure, reducing inflammation and inhibiting blood clotting. All in all, chard is a nutritious vegetable that's beneficial to incorporate into a healthy diet.
The Recipe
These veggie wraps are simple to whip up, and the recipe is completely customizable. Rainbow chard is the star ingredient, along with other nutrient-dense produce — including carrots, bell peppers and cherry tomatoes — but you can always swap in whatever other produce you have on hand. We like to spread a nice coating of hummus on rainbow chard, but peanut sauce, mustard, or your favorite salad dressing can also work.
Additionally, there's an option to make these wraps heartier by including a protein of choice, such as chickpeas, grilled chicken or sauteed tofu.
Veggie-Packed Rainbow Chard Wraps
Ingredients:
6 rainbow Swiss chard leaves
1 large carrot
1 red bell pepper
1 cucumber
½ cup cherry tomatoes
¼ red onion
Choice of ¼ cup hummus, peanut sauce, mustard or your favorite salad dressing
Option to include a protein, such as sauteed tofu, grilled chicken or beans
Directions:
Wash and de-stem the chard leaves.
Shred the carrot, dice the pepper and cucumber, and slice the cherry tomatoes and red onion.
Slather the center of the chard leaves with hummus or other sauce of choice.
Evenly distribute the veggies onto the chard leaves on top of the hummus. If adding in a protein, arrange it evenly on top.
Wrap up and enjoy!
Additional Chard Recipe Ideas
If you're looking for other ways to use up that colorful chard, here are some ideas:
Add sauteed chopped chard into your morning omelet.
Make Swiss chard tahini dip.
Get cheesy by making a chard gratin.
Give your chard lots of flavor by sauteing it with garlic, olive oil and pine nuts.

Grill the leafy greens with spicy garlic oil for an interesting side dish. Get the recipe

here

.

Add chard to your pasta. Some recipe ideas include:
At Feeding Westchester, we work to tackle hunger from all angles. Our food education initiatives include hands-on nutrition education workshops, cooking demonstrations, and resources for clients about the Supplemental Nutrition Assistance Program (also known as SNAP). Be sure to check out our previous Food Friday recipes, including easy mango salsa, eggplant tacos and avocado toast.
Are you interested in helping Feeding Westchester fulfill its mission of ending hunger in the area? Learn more about our volunteer opportunities today. From assembling bags of food or assisting on-site at our Mobile Food Pantry locations, to harvesting fresh produce in our community gardens, there are a variety of ways that you can give back to the community through volunteerism at Feeding Westchester.